EXHIBITIONS
ARCHIVE
The Rite of Spring 2021
2021.01.23 - 2021.02.20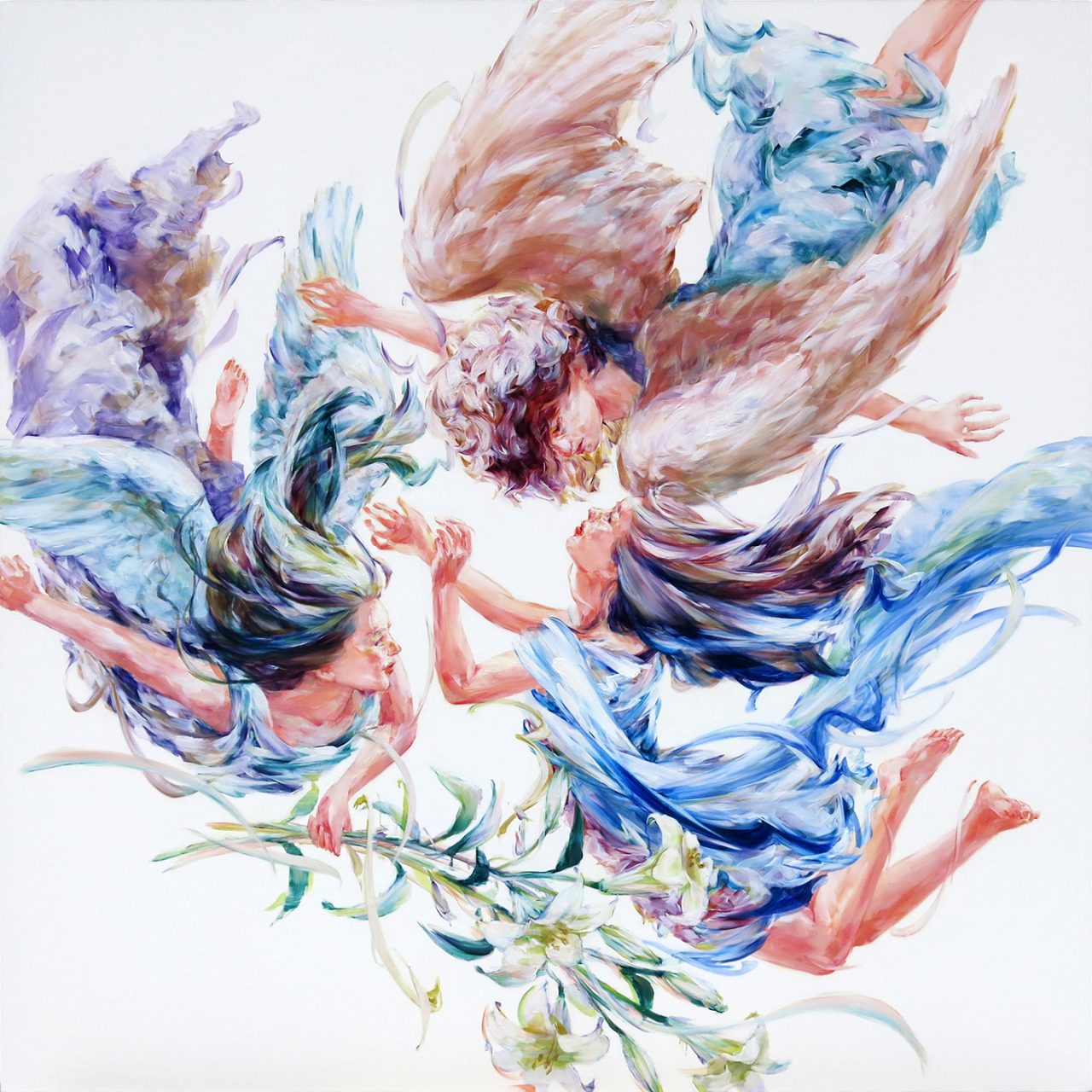 Yuka Tsuruno Gallery is pleased to present the group exhibition The Rite of Spring 2021, with Tim Barber, Tetsuro Kano, Maiko Kasai, Manika Nagare, Tomomi Nitta, and Raul Walch, from January 23rd to February 20th, 2021. Even amidst the threat of the virus and the protraction of global social uncertainty, the cycle of the seasons persists. In the same way that the long dormant spring abruptly swells up again and rekindles the light in each form of life, the exhibition seeks the breath of spring woven by a creative energy threaded through the six artists' practices.
 Maiko Kasai, who often depicts young girls who appear to be floating in space, creates a timeless vibrance in combining recurring themes from the Western art historic tradition with her distinctive stylistic use of bold brushstrokes and white space. Composed of motifs such as girls, angels, doves, and white lilies, the annunciation scene delves into the essence of the relationship between painting and composing a new story, while incorporating a personal perspective and interpretation of the narrative.
 Tomomi Nitta explores painting as an empirical extension that is both haptic and an experience of sensibility, as opposed to merely visual effect. She expresses the existential pursuits of the human being, as well as the infinite world and obscure perception engendered by such a practice. Recently she uses familiar plants as motifs in addition to the body, and the wild daffodil, which begins to bloom towards the end of winter, is an indication of spring to come, as well as a measure of recovery of life after a long hibernation under the snow.
 Manika Nagare's early works consist of countless layers of colors and forms that assemble images induced by a curious imagination into the lives of others; people with whom she had no connection other than passing by them in the street. For Nagare, who examines colors that appear in paintings and Japanese culture from her personal perspective, this is also an attempt to use color and light to resonate the yet unseen vibrations that are concealed in seemingly insignificant moments.
 The dynamics and contexts that inhabit public spaces are temporarily written by Raul Walch, who sheds light on various boundaries drawn in these spaces through public intervention. He creates mobile works that incorporate fabrics printed with patterns inspired from events and experiences whilst traversing various boundaries, which become a patchwork of diverse cultures, flags, and banners.
 Tetsuro Kano uses daily objects and tools, and deconstructs their socially constructed symbols, meanings, and roles. He creates new environments and landscapes that exceed even the intention of the artist by incorporating birds and plants, beings that embrace a different perceptual awareness than that of humans. Considering how the fragmental parts come together, he works toward sculptures that are both a temporary installation and exist as a complete whole.
 The photographic works of Tim Barber, who is at once a photographer, editor, and curator, capture familiar or nondescript scenes, yet evoke an enigmatic narrative. Weaved within these photos are hints as to how we coexist with these delicate moments in daily life, how we connect with the objects that appear within them, and how we can experience these things from a different perspective.
 
Artist Profile
-
Maiko Kasai
Born 1983, Aichi. Kasai received an MA in oil painting from Kanazawa College of Art Graduate School. She received Second Prize in the Shell Art Award in 2008. Selected exhibitions include VOCA (The Ueno Royal Museum, Tokyo, 2016), Shell Art Award Artist Selection (The National Art Center, Tokyo, 2012), and 30th Outstanding Rising Artists Exhibition (Sompo Japan Museum of Art, Tokyo, 2011).
Tomomi Nitta
Born 1978, Nara. Nitta graduated with a law degree in 2001 from Kyoto University, and Tama University of the Arts in 2010. She previously studied art at Corcoran College of Art and Design and Pennsylvania Academy of the Fine Arts. Selected exhibitions include Hanging Garden at Japan Creative Centre (Embassy of Japan in Singapore, 2016), Presence: Figurative Painting (The Morris and Gwendolyn Cafritz Foundation Arts Center King Street Gallery, Maryland, 2015) and Likeness: Tomomi Nitta + Karen Ann Myer (The Athenaeum Gallery, Virginia, 2012).
Manika Nagare
Born 1975, Osaka. Nagare graduated from the department of painting at Joshibi University of Art and Design. She was an overseas artist-in-residence in the US sponsored by the Agency for Cultural Affairs (2002) and a recipient of the Pola Art Foundation Grant staying in the US and Turkey (2004). Her recent exhibitions include Re Construction (Nerima Art Museum, Tokyo, 2020), Tracing the Colors (POLA Museum of Art, Kanagawa, 2018), Takamatsu Contemporary Art Annual vol.05 – Visible Scenery, Invisible Scenery – (Takamatsu Art Museum, Takamatsu, 2016), and VOCA (The Ueno Royal Museum, Tokyo, 2000, 2006). She also engages in public art, collaborations with fashion brands, artistic supervision of dance performances and architectural spaces.
Raul Walch
Born 1980 in Frankfurt am Main, Raul Walch began studying sculpture at the Kunsthochschule Berlin-Weißensee, completed his studies Freien Kunst (free art) at the University of the Arts in Berlin with Olafur Eliasson and became a scholarship holder at Institut für Raumexperimente Berlin. His work has been exhibited at the Neue Nationalgalerie Berlin, Hamburger Bahnhof Berlin, Kunsthaus Dresden, and Kunstverein Arnsberg. Numerous artist-in-residence programs have made it possible to work internationally, such as Tokyo Arts and Space, the Nida Art Colony, and the Hessian Cultural Foundation. Walch currently teaches "Public Art and New Artistic Strategies" at the Bauhaus-University Weimar.
Tetsuro Kano
Born 1980, Miyagi. Kano holds a bachelor's degree from the Department of Environmental Design/City Environmental at Tokyo Zokei University (2005), and a master's degree in Fine Art from Tokyo Zokei University (2007). Recent exhibitions include ART MIYAGI 2019 (Miyagi Museum of Art, 2019), A bird in the garden, a cat in the room (Japan Creative Centre, Embassy of Japan in Singapore, 2017), BETWEEN BOTANY AND ART (Aichi Prefecture Museum, Aichi, 2015), Abstract maps, Concrete territories (Moerenuma Park, Sapporo, 2013), and Clear signs, Vivid tones (HARA MUSEUM ARC, Gunma, 2012).
Tim Barber
Born 1979. Barber grew up in Amherst, Massachusetts, and is based in New York City. Known equally for his curatorial practice in addition to his photography, Barber was photo editor of Vice Magazine, and the mind behind the hugely influential online gallery and image archive www.tinyvices.com. He is also active commercially for fashion magazines, gaining momentum as one of New York's edgiest photographers.
 
Exhibition Outline
-
Tim Barber, Tetsuro Kano, Maiko Kasai, Manika Nagare, Tomomi Nitta, Raul Walch
The Rite of Spring 2021
Date: January 23 – February 20, 2021
Opening hours: Tue – Sat, 11am – 6pm (*During this exhibition period the gallery will also be open until 6pm on Fridays)
* Closed on Sunday, Monday, and National holidays
Works in Exhibition
Installation View
ARTISTS