EXHIBITIONS
ARCHIVE
Saki Sumida, Everlasting Bloom
2018.03.03 - 2018.04.07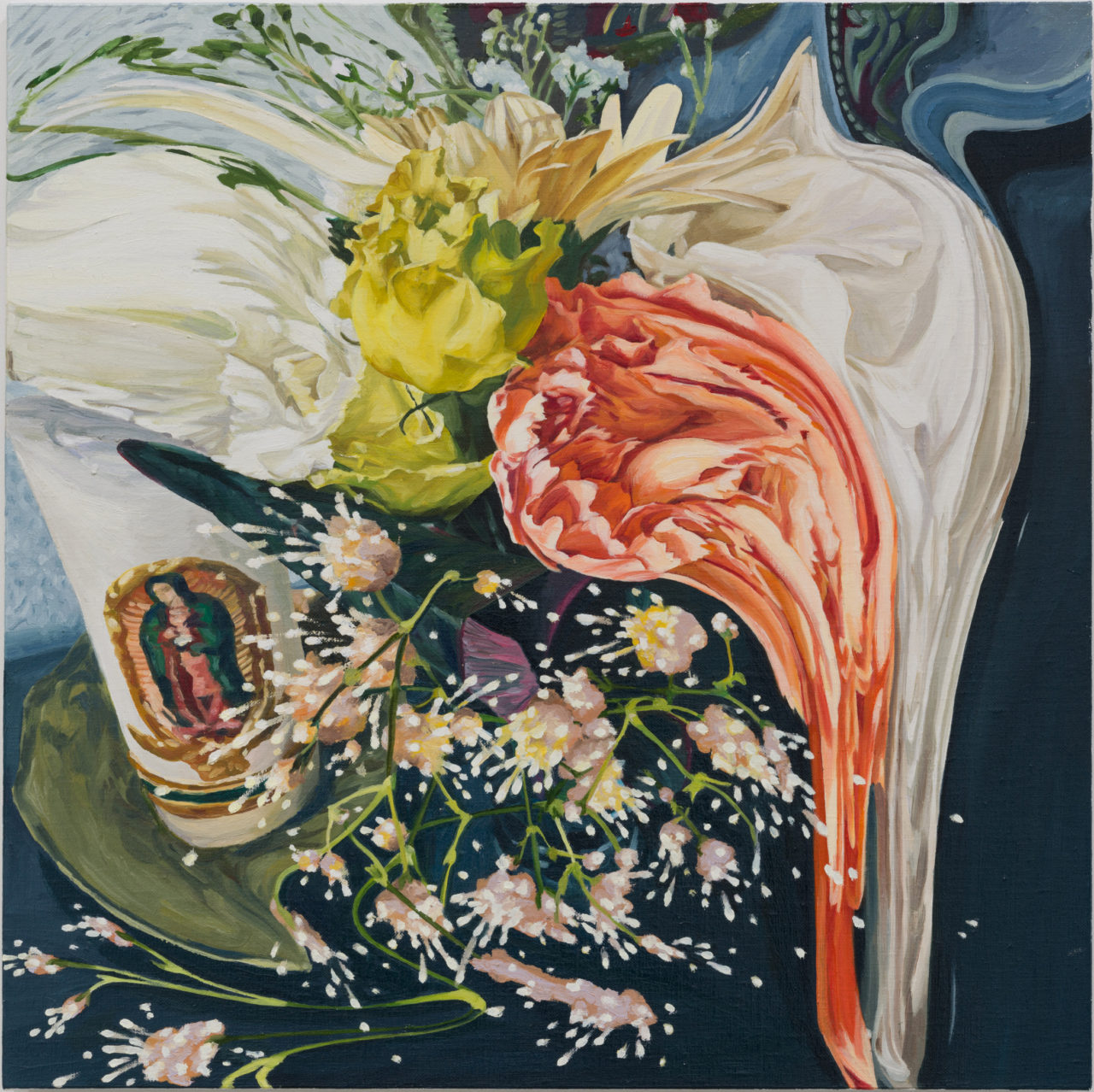 Yuka Tsuruno Gallery is pleased to present Everlasting Bloom, a solo exhibition by Saki Sumida, from Saturday, March 3 to Saturday, April 7, 2018. In her first solo exhibition at the gallery in about two years, she will present new works that capture the sense of distance between incidents such as natural disasters, wars and accidents and her own life, depicted through everyday scenes.
 Previously, Sumida has produced incongruous images where elements from fashion advertisements, souvenir pictures, tourism advertisements or scenes from mythological stories are integrated into traditional Japanese culture or landscape on the surface of her paintings. These works at once questioned the notion of "original culture" and faithfully depict contemporary Japanese cultural landscape where various cultures are blended with each other, as observed by the artist who was born in the 1980s.
 In this show, Sumida will present new works that, while maintaining her characteristic cynical mood, depict the sense of distance between the news of incidents such as natural disasters, wars and accidents, and her own life seen through the fragments of everyday scenes. The artist spends more time at home by going through the childbirth followed by looking after her child, and this has made her daily life away from loads of information. She discusses that lack of information triggered the change in her sense of distance to the outside world. This change prompted her to be conscious about the calmness of her being where days pass without dramatic occurrences that radically alter her life such as war, natural disaster, bullying crime or serious illness. Moreover, it pushed her to reflect upon the fortunate and privileged circumstance of her life as a member of the generation that never experienced war.
 Under the condition where one's sense of danger is unconsciously being dulled, often satirized as "peace senility", you tend to wishfully believe that bad things never happen to your life. Even though the fear of a disaster striking at any time to threaten your peaceful life is always in the back of your head. Sumida describes such a state of mind as "the flower that stays in bloom forever". In these new paintings, the sense of distance to the actual incidents that are happening in the outside world are expressed as arrangements of fragments from the artist's life that suggest the impending disaster lurking beneath the veneer of the everyday.
Artist Profile
Born in 1985 in Okayama. Saki Sumida earned a Master's Degree in oil painting at Onomichi City University, and currently lives and works in Kyoto. Selected solo exhibitions include Unaffected by Wave (FUKIAGE museum of art, Okayama, 2016), Fuji (Tokyo Wonder Site, 2015), and selected group exhibitions include Mr. I Prize Selected Works Exhibition (Tenjinyama Cultural Plaza, Okayama, 2016), VOCA 2014 (Ueno Royal Museum, Tokyo, 2014), How to spend my daily life (The Shione Museum of Art, Kagawa, 2014) and Tokyo Wonder Wall (Museum of Contemporary Art Tokyo, 2013).
Exhibition Outline
Saki Sumida, Everlasting Bloom
Date: March 3 – April 7, 2018
Opening hours: Tue – Thu, Sat, 11am – 6pm; Fri 11am – 8pm
* Closed on Sunday, Monday, and National holiays
Venue: Yuka Tsuruno Gallery
1-33-10-3F Higashi-Shinagawa, Shinagawa-ku, Tokyo Japan
Works in Exhibition
Installation View
ARTISTS