EXHIBITIONS
ARCHIVE
Tomomi Nitta, Hanging Gardens
2017.07.01 - 2017.08.05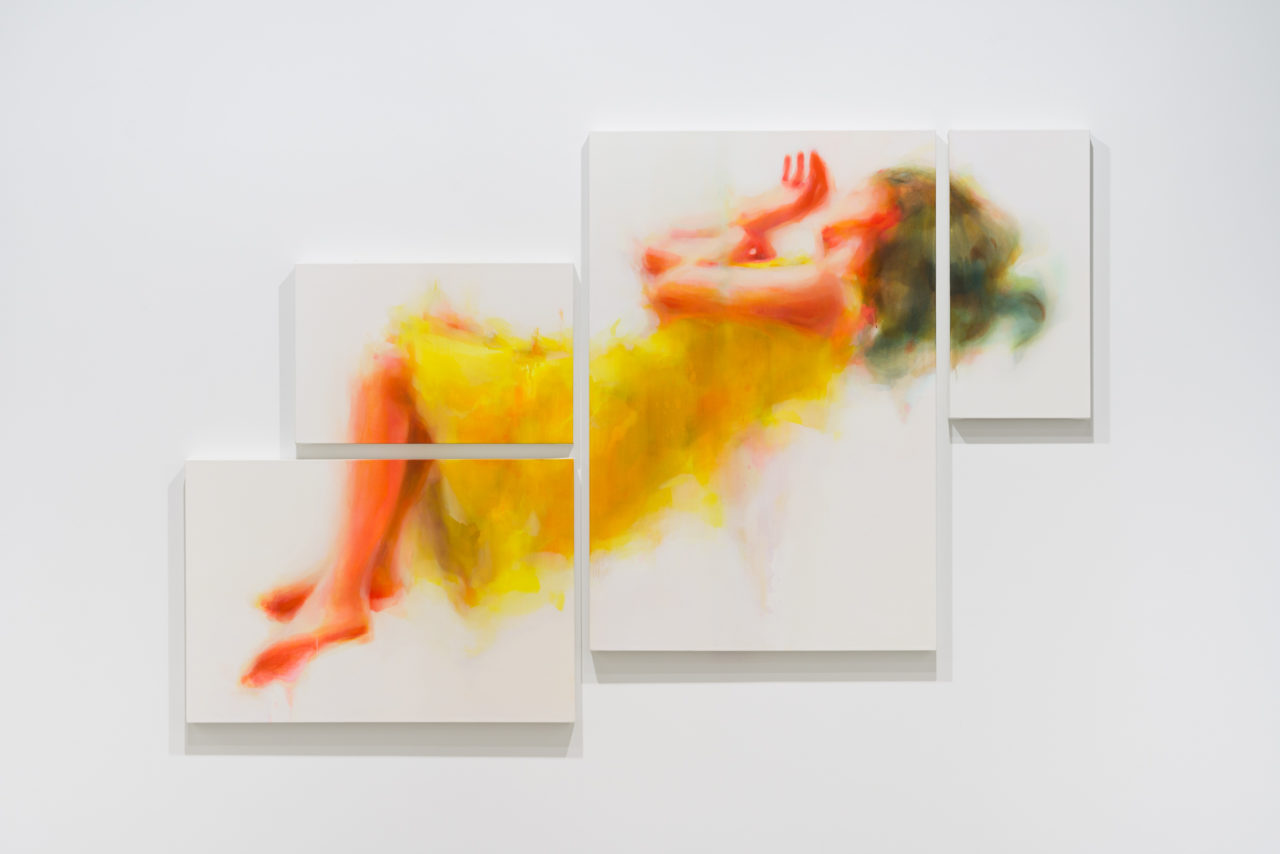 Yuka Tsuruno Gallery is pleased to present Hanging Gardens, a solo exhibition by Tomomi Nitta, from Saturday, July 1 to Saturday, August 5. In this first exhibition by Nitta at our gallery in two years, she will present the Hanging Gardens series which she presented in Singapore last year (Japan Creative Centre, Embassy of Japan in Singapore, 2016). The series combines elements from Singapore and the Hanging Gardens of Babylon, with her exploration of human existence.
 Tomomi Nitta has consistently expressed human existence as an aggregate of the ever-changing infinite sets, through anonymous and abstract female figures on white canvases. Moved to Singapore in 2015, Nitta finds the same theme in the country, which has rapidly grown as a city-state by its rational planning and development.
 Through the exhibition title Hanging Gardens, Nitta draws a parallel between Singapore, where large trees, tropical plants and concrete structures intertwine each other to coexist, and the Hanging Gardens of Babylon. According to the ancient legend, the Hanging Gardens of Babylon, which is counted as one of the Seven Wonders of the World by the ancient Hellenic culture, was a series of large tiered gardens constructed by highly advanced ancient engineering technologies. It was built, so it is believed, to console a queen who did not want to marry into a desert kingdom. It was probably a kind of architecture that required constant irrigation and maintenance, or else it would have turned to sand immediately.
 Nitta says that the initial impression of Singapore reminded her of these "Hanging Gardens". This is understandable, as Singapore creates an artificial "Green Lung" (i.e. gardens) in its dense urban space by adeptly planting trees. While it certainly reflects the contemporary urban discourse of green urbanism, it is also a political performance for producing Singapore's raison d'être as a new city-state that originates in the ideal of "Garden City", advocated by then Prime Minister Lee Kuan Yew in 1967.
 Moreover, Hanging Gardens can be understood as a metaphor for our very existence. Our existence is maintained by the immune system that protects us from the outside world and the constant renewal of our cells. When this process stops, our bodies die and return to matter. As we exist as "Hanging Gardens", located in the process of life cycle, we constantly build ourselves the meaning of our existence and our environment.
 Nitta, who has been exploring the existential pursuits of the human being, as well as the infinite world and obscure perception engendered by such pursuits, invites audience to a profound reflection by bringing together a metabolic city, or Hanging Gardens, that requires constant production and maintenance, and our very existence.
Artist Profile
Nitta was born in 1978 in Nara, graduated with a law degree in 2001 from Kyoto University, and Tama University of the Arts in 2010. Before enrolling in Tama University of the Arts, she had previously studied art in Corcoran College of Art and Design and Pennsylvania Academy of the Fine Arts. Her recent solo exhibition includes Infinite Set 3 at Hillyer Art Space (Washington DC, 2012) and Hanging Garden at Japan Creative Centre (Embassy of Japan in Singapore, 2016), and recent group exhibition includes Likeness: Tomomi Nitta + Karen Ann Myer at The Athenaeum Gallery (Virginia, United States, 2012) and Presence: Figurative Painting at The Morris and Gwendolyn Cafritz Foundation Arts Center King Street Gallery (Maryland, United States, 2015).
Exhibition Outline
Tomomi Nitta, Hanging Gardens
Date: July 1 – August 5, 2017
Gallery opening hours: Tue – Thu, Sat 11:00-18:00 / Fri 11:00-20:00
Closed on Monday, Sunday, National holiday
Opening reception: Saturday July 1, 18:00-20:00
Venue: Yuka Tsuruno Gallery
1-33-10-3F, Higashi-Shinagawa, Shinagawa-ku, Tokyo
Works in Exhibition
Installation View
ARTISTS