EXHIBITIONS
ARCHIVE
Tetsuro Kano, a tree as a city
2017.01.21 - 2017.02.25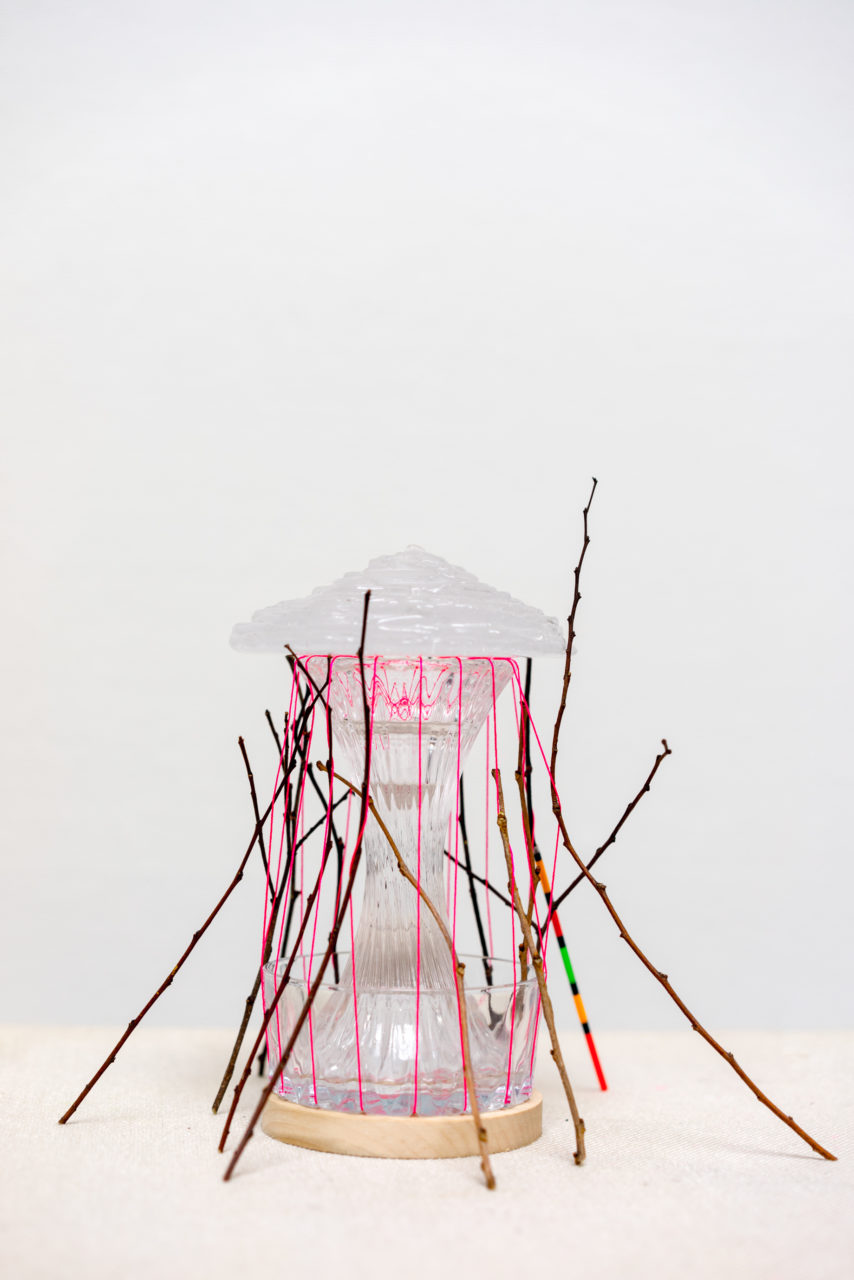 Yuka Tsuruno Gallery is pleased to present Tetsuro Kano's solo exhibition a tree as a city from Saturday, January 21 to Saturday, February 25, 2017. This first solo exhibition in three years will showcase sculptures and drawings, with a focus on the New Plants series that explores the perception of plants by birds, other small animals, insects, and microorganism.
 Taking biologist Jakob von Uexküll's concept of umwelt (often translated as "self-centered world") as an inspiration, Kano has consistently been interested in the diversity of the worlds perceived by different organisms found in the everyday life sphere of human beings. The landscapes that Kano gives shape to using ready-made products in a way that deviates from their original purpose, or by incorporating the viewpoints of the Other, such as plants and birds, retain the existing compositions of a work of sculpture or painting, but allow a worldview open to values departing from art and to diverse forms of existence to concurrently reside in them.
 The title of the exhibition, a tree as a city, derives from architect and design theorist Christopher Alexander's essay "A City is Not a Tree". Alexander criticized the artificial framework of the tree diagram as applied to urban planning, and called for the "natural" city with a semi-lattice structure where complex relationships are established over time. Onto this natural city, Kano superimposes Uexküll's tree, understood as a heterogeneous milieu that takes on different roles for different organism.
 Having studied architecture and environmental design, Kano has discerned values and meanings that slip through human intentions by observing plants. In recent years, he has produced works in places removed from the realm of art, such as a botanical garden, and the scale of the parts used in his sculptures and installations, focused in the past on the perception and scale of birds, has become a size smaller and more meticulous. Taking plants as its motif, and leading the micro-world of insects and microorganism that encircle plants into it, this exhibition invites viewers to imagine plural worlds where details acquire different identities for different organisms while giving rise to a whole.
Artist Profile
Tetsuro Kano was born in 1980. He holds a bachelor's degree from the Department of Environmental Design/City Environmental at Tokyo Zokei University (2005), and a master's degree from the Fine Art at Tokyo Zokei University (2007). His recent solo exhibitions include Naturplan (Bloomberg Pavilion Project Museum of Contemporary Art, Tokyo, 2011), Clear signs, Vivid tones (HARA MUSEUM ARC, Gunma, 2012) and Abstract maps, Concrete territories (Moerenuma Park, Sapporo, 2013). His recent group exhibitions include Breathing Atolls: Japan-Maldives Contemporary Art Exhibition (National Art Gallery, Sultan Park, 2012), To Wander a Garden (Vangi Sculpture Garden Museum, Shizuoka, 2012), In Search of Critical Imagination (Fukuoka Art Museum, Fukuoka, 2014), and BETWEEN BOTANY AND ART (Aichi Prefecture Museum, 2015).
Exhibition Outline
Tetsuro Kano, a tree as a city
Date: January 21 – February 25, 2017
Gallery opening hours: Tue – Thu, Sat 11:00-18:00 / Fri 11:00-20:00
Closed on Monday, Sunday, National holiday
Opening reception: Saturday January 21, 18:00-20:00
Venue: Yuka Tsuruno Gallery
1-33-10-3F, Higashi-Shinagawa, Shinagawa-ku, Tokyo
Works in Exhibition
Installation View
ARTISTS