EXHIBITIONS
ARCHIVE
Akiko Ueda, Tomona Matsukawa, Maiko Kasai, Tomomi Nitta The Rite of Spring
2020.01.25 - 2020.02.22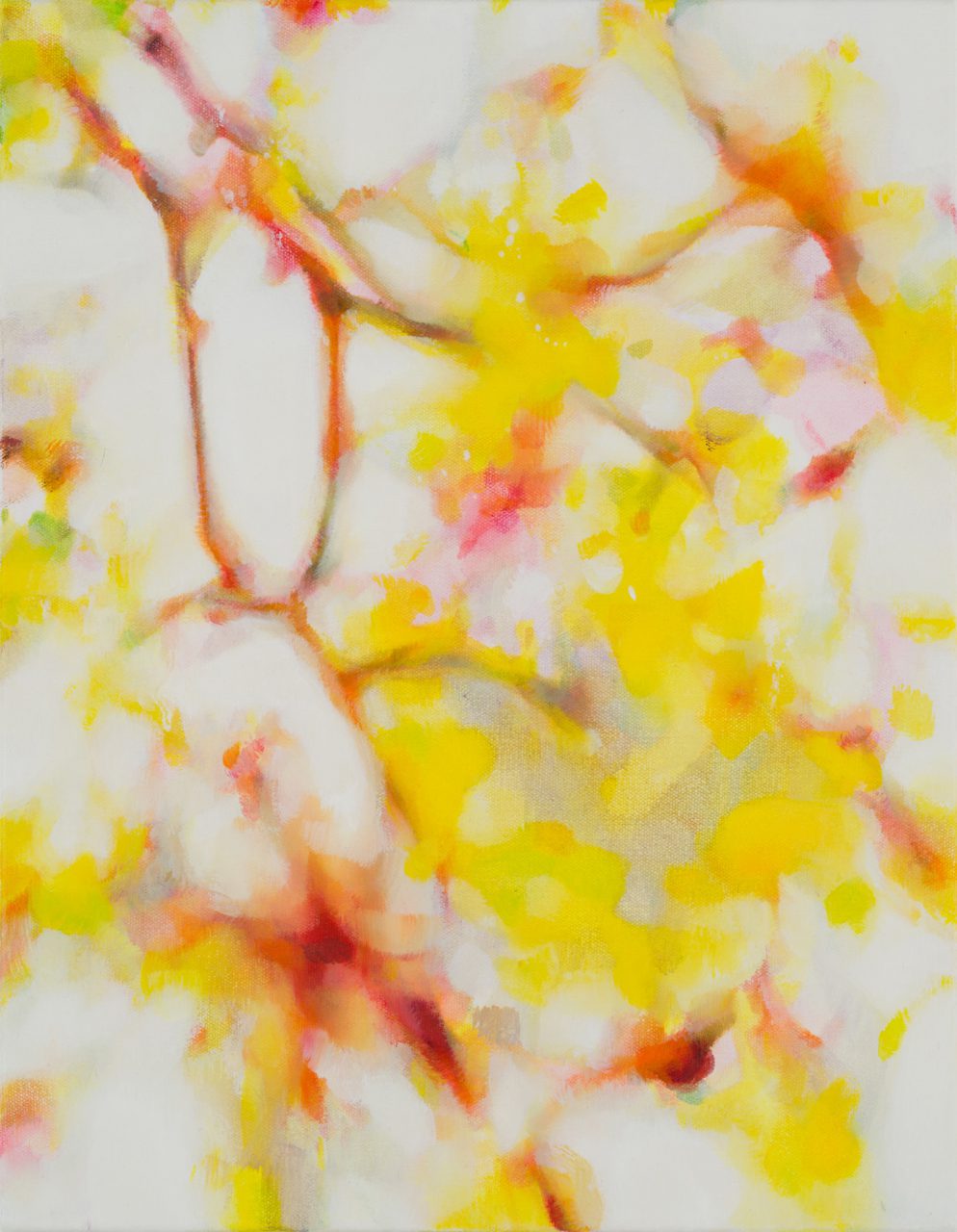 Yuka Tsuruno Gallery is pleased to present The Rite of Spring, a group exhibition featuring Akiko Ueda, Tomona Matsukawa, Maiko Kasai, and Tomomi Nitta, from January 25th to February 22nd 2020. The fetal movement of the world that propels polyphonic life as it appears in Stravinsky's ballet – the fantastic and creative spirit of spring that is born from a dialogue interwoven through the works of the four painters marks the rising of the curtain for this new year.
 The touch of spring is an inspiration that becomes transformed into the energy of life. Such energy emerges not in a given world but one that numerous events function for it to be continually reborn as a whole.
 Akiko Ueda, whose interest lies in the fluidity of events that shift at every moment, has embedded this fascination into an increasingly abstract pictorial space through her current studies in Belgium. Similar to the process of creating a microcosm by repeatedly repairing, rearranging, and introducing new components to a stage set, Ueda's paintings give birth to an abundance of narratives from sceneries in which variant space-time and reciprocal attributes blend into each other.
 Layering a variety of voices from conversations with her subjects, Tomona Matsukawa's realistic paintings depict the fragments of inner lives that are visible in the residual signs of daily life, such as tokens, gestures, or habits. Moreover, a relationship emerges within the metaphorical plants and the spectral colors that embody a new entity –children– in which manifests a world that ties not only past and present but also future.
 In Maiko Kasai's paintings, the characters are portrayed to seem as if they are sinking into their surrounding plants. The state of differential ambiguity between people, things, and the world around them expresses the process of creating a world from personally weaving with one's hands. This illuminates the role of the artist herself, in the act of painting and the events that emerge to shape that microcosm from this act, while also looking onto this world as creator.
 Tomomi Nitta explores the ontological pursuits of human beings and the awareness for an infinitely expanding universe through bodily expressions. By focusing on natural motifs in recent years she further contemplates the state of life and the world as the boundaries between herself and others, including non-humans, are obscured. In particular, the ancient Greek term "psyche," meaning "breath," is superimposed onto the core that stimulates life; she paints its derived meanings of "soul/spirit" and "life" through familiar plant life.
 The breath of spring is precisely the time of year when plants begin to sprout. As the ballet "The Rite of Spring" negotiates with the world through fervent dance and discordant sound, these four artists continue this conversation through their individual perspectives and creative processes.
 
 
Artist Profile
-
Akiko Ueda
Born 1983, Kyoto. Ueda received a BFA in Painting from Musashino Art University in 2006. She was a recipient of the Pola Art Foundation Grant, staying in Belgium (2018). Her solo exhibitions include When a Painting Is Looking at Painter's Sleeping Face (Dai-ichi Life South Gallery, Tokyo, 2015), ARKO 2012 / UEDA AKIKO (Ohara Museum of Art, Kurashiki, 2012), and Sometimes, Our World Must Be a Big Bouquet (Kiyosu City Haruhi Art Museum, Kiyosu, 2009). Group shows include Closing and Neo Vision (Nagano Prefectural Shinano Art Museum, Nagano, 2017) and VOCA 2011 (The Ueno Royal Museum, Tokyo, 2011).
Tomona Matsukawa
Born 1987, Aichi. Matsukawa graduated from Tama Art University in 2011, specializing in oil painting. Her recent exhibitions include Roppongi Crossing 2016: My Body, Your Voice (Mori Museum, Tokyo, 2016), Shell Artist Selection (The National Art Center, Tokyo, 2013) and Artist Meets Kurashiki vol.12 Tomona Matsukawa (Ohara Museum of Art, Okayama, 2016). She was a finalist for the Asian Art Award (2017), and was awarded the Fukazawa Ichiro Memorial Award (2011) and The 25th Holbein Scholarship (2010).
Maiko Kasai
Born 1983, Aichi. Kasai received an MA in oil painting from Kanazawa College of Art Graduate School. She received Second Prize in the Shell Art Award in 2008. Selected exhibitions include VOCA (The Ueno Royal Museum, Tokyo, 2016), Shell Art Award Artist Selection (The National Art Center, Tokyo, 2012), and 30th Outstanding Rising Artists Exhibition (Sompo Japan Museum of Art, Tokyo, 2011).
Tomomi Nitta
Born 1978, Nara. Nitta graduated with a law degree in 2001 from Kyoto University, and Tama University of the Arts in 2010. She previously studied art at Corcoran College of Art and Design and Pennsylvania Academy of the Fine Arts. Her recent solo exhibition includes Hanging Garden at Japan Creative Centre (Embassy of Japan in Singapore, 2016) and Infinite Set 3 (Hillyer Art Space, Washington DC, 2012). Recent group exhibitions include Presence: Figurative Painting (The Morris and Gwendolyn Cafritz Foundation Arts Center King Street Gallery, Maryland, 2015) and Likeness: Tomomi Nitta + Karen Ann Myer (The Athenaeum Gallery, Virginia, 2012).
 
 
Exhibition Outline
-
Akiko Ueda, Tomona Matsukawa, Maiko Kasai, Tomomi Nitta
The Rite of Spring
Date: January 25 – February 22, 2020
Opening hours: Tue – Thu, Sat, 11am – 6pm; Fri 11am – 8pm
* Closed on Sunday, Monday, and National holidays
Works in Exhibition
Installation View
ARTISTS