EXHIBITIONS
ARCHIVE
Candida Höfer, The Large and The Small – The Still and The Moving
2019.06.08 - 2019.08.03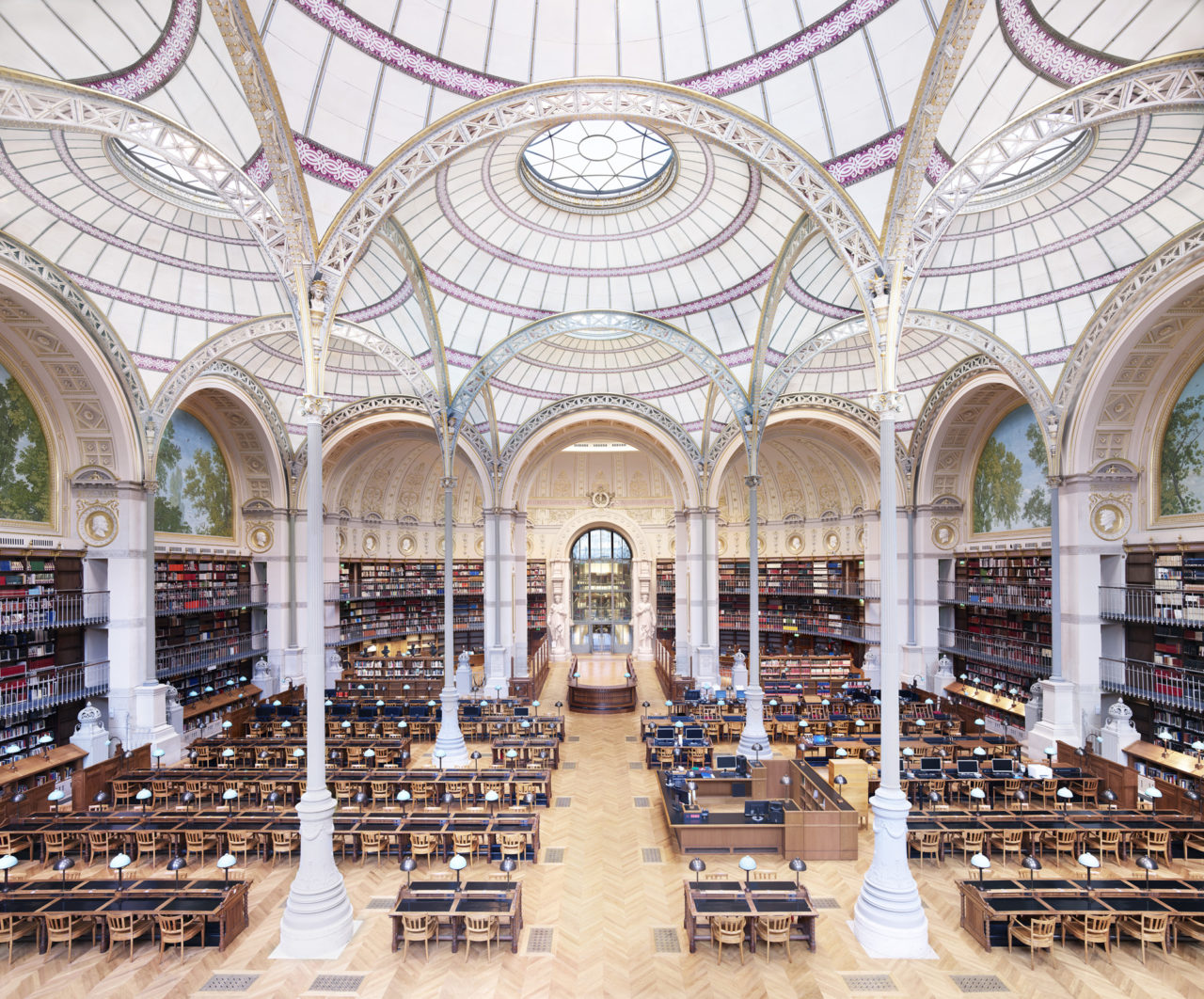 Yuka Tsuruno Gallery is pleased to present Candida Höfer's solo exhibition, The Large and the Small – the Still and the Moving from June 8th to August 3rd, 2019. Her second solo show at the gallery will feature her major works that capture interiors of public spaces such as libraries and theaters, as well as recent abstract photographs and projection works.
 Candida Höfer is one of the leading artists of Germany and a world-renowned photographer of the Becher school alongside Andreas Gursky, Thomas Struth, and Thomas Ruff. She studied film at the Kunstakademie Düsseldorf from 1973, and photography under Bernd and Hilla Becher from 1976. Along with Thomas Ruff, Höfer was also one of the first of the Becher school to use color in their photography. Drawing global attention for her works that photograph interiors of an array of public architectural spaces, from magnificent buildings such as libraries, palaces, and theaters, to familiar buildings of daily life, she was selected to represent Germany at the Venice Biennale in 2003.
 In her early works, Höfer set out to capture the changes in German society brought about by Turkish immigrant workers, from which her interest expanded to the way constructed environments affect people. Since then she has been photographing culturally symbolic buildings as well as more recognizable buildings, such as railway stations, libraries, museums, zoos, banks, and opera houses, photographing them devoid of humans and using only the light within the space. The human-less spaces that she captures paradoxically evoke the human presence that ought to be there, and inspire contemplations on spatial form, construction, and details brought about by architectural intent, as well as their contradictions and historical changes. The works accentuate the way in which human experience certainly is shaped by architectural environments. This series has been presented as large-scale photographs up to 2m in length, and recently she has been engaging in works that are abstractions of architectural spaces. At the same time, her recent works include a closer approach to the subjects, developed with the now rare dye transfer process, and employ a procedure diverging from conventional large format photographs, particularly in terms of color, form, and contexts.
 Furthermore, in addition to photography works, slide projections have been an important presentational method for Höfer. In order to photograph architecture all over the world, as well as for exhibitions, she herself also constantly travels. In conjunction with this lifestyle, she always carries around a small handheld camera, freed from the need to meticulously adjust the settings and timings such as is necessary for large format works. Emerging from this lifestyle, her projection works show the changes in buildings that she notices as she travels and investigates various places, as well as images of herself. These multifarious approaches are such that complement one another, and demonstrate her interest in space from diverse perspectives.
 We will be holding a reception on the opening day in presence of the artist.
Artist Profile
Candida Höfer studied at the Kunstakademie Düsseldorf, initially Film with Ole John, then Photography with Bernd Becher. Her works are shown in museums such as the Kunsthalle Basel, the Kunsthalle Berne, the Portikus, Frankfurt am Main, the Museum of Modern Art, New York, the Power Plant, Toronto, the Kunsthaus Bregenz, the Reina Sofia, Madrid, and the Museum Ludwig, Cologne. In 2002 Candida Höfer participated in documenta 11. In 2003 she represented Germany at the Biennale in Venice (together with the late Martin Kippenberger). The artist lives in Cologne, Germany.
Exhibition Outline
Candida Höfer, The Large and the Small – the Still and the Moving
Date: June 8 – August 3, 2019
Opening hours: Tue – Thu, Sat, 11am – 6pm; Fri 11am – 8pm
Closed on Sunday, Monday, and National holidays
* Opening reception: June 8 18:00 – 20:00
Venue: Yuka Tsuruno Gallery
1-33-10-3F Higashi-Shinagawa, Shinagawa-ku, Tokyo Japan
Works in Exhibition
Installation View
ARTISTS