EXHIBITIONS
ARCHIVE
Tomona Matsukawa, Love Yourself
2019.03.09 - 2019.04.06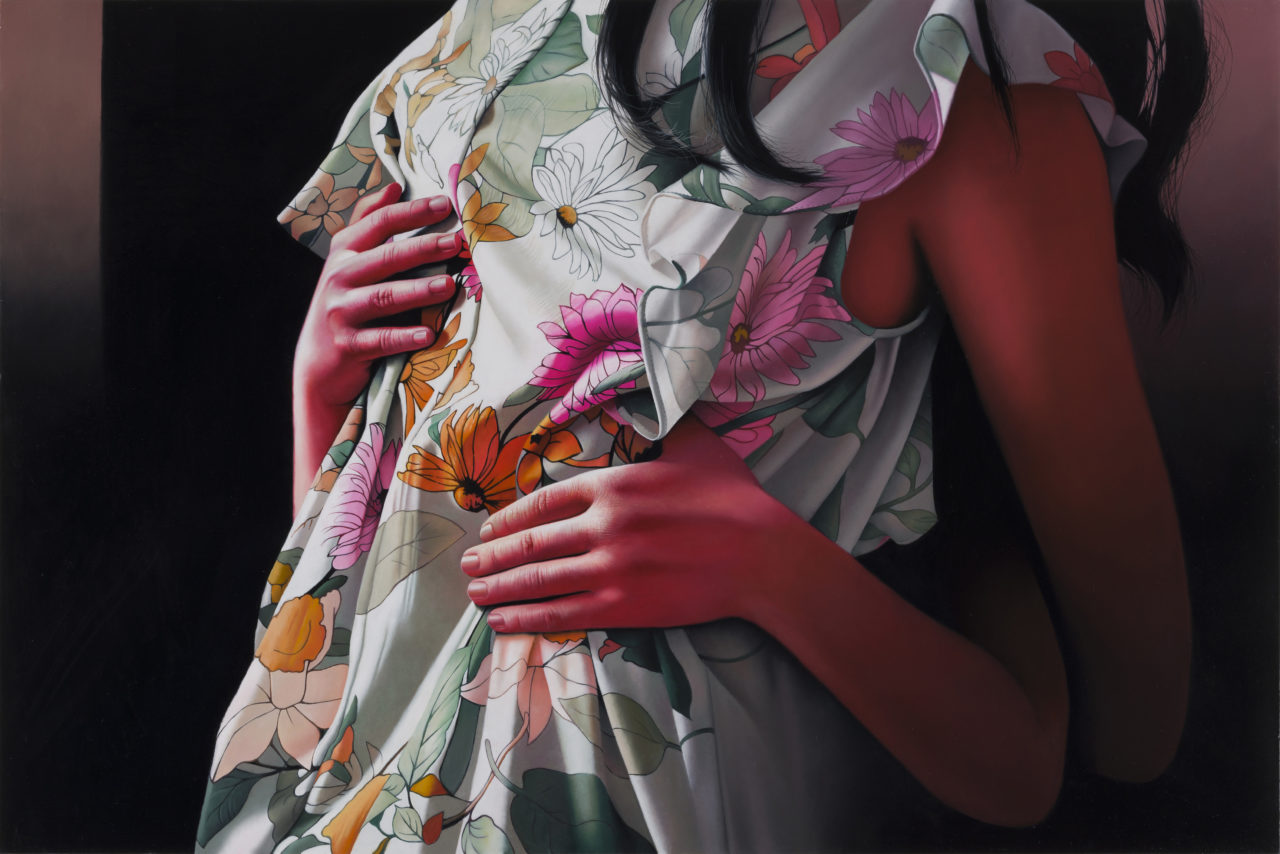 Yuka Tsuruno Gallery is pleased to present Tomona Matsukawa's solo exhibition Love Yourself from March 9th to April 6th, 2019. In this exhibition the artist will present a new body of work revolving around the relationship between mother and child, which stems from her experience as a mother and from conversations with other women.
 Matsukawa's distinctive realistic and somewhat dramatic paintings are born from interviews with other women of her generation and the titles and motifs are derived from phrases that were striking during these conversations. Retaining her interest in themes of her earlier works such as the remnants of daily life, the humanity that lingers in certain gestures, and the interiority of human beings, a fragment of scenes from everyday life derived from the conversations are reconstructed on her flat and smooth surface. In this reconstruction, there is a simultaneous attempt to transfigure the aspect of vulnerability in life.
 With subjects about female life as her departure point, such as damaged high heels and abandoned clothing, scars on the body, or disintegrating make up, in recent years she has also been confronting in her paintings the difficulties and conflicts that arise in her environment and experience as a single mother. In the process of this series, which portrays the mother and child, Matsukawa has been conducting interviews with single parents in order to conceive of multiple perspectives on the pressure to raise one's child on one's own and the public criticism against single parent households in Japan, instead of deserting it as an individual's issue. This series came to fruition as a result of numerous conversations with women who raise children on their own about what it means to be a mother, the choices that had to be made, the conflicts that inevitably arose, and the environments that surround their children.
 The title "Love Yourself" derives from an incident in in Canada, wherein a stone that was part of Yoko Ono's participatory art piece was stolen from a Toronto museum. A senior woman secretly took home one of the stones, on which Yoko Ono herself had written "LOVE YOURSELF," and these words have touched Matsukawa deeply.
This woman selected "LOVE YOURSELF" from a number of stones. This incident stayed with me as I felt that there must be a strong power to these words if they had prompted her to act in such a way. If the words "LOVE YOURSELF" have the ability to stimulate people, I wanted to direct these words to single parents like myself. I believe that, in any environment, single parents should not be ashamed of their conduct, and that they should have faith in their own actions regardless of the situation. I hope that all single parents in Japan will embrace a strong love for their children and for themselves.
 In Japanese society where the treatment and support of single parent households are still not sufficient, people have a tendency to bury these issues as one's personal responsibility or one's own weakness. However, by infusing a message to begin from loving oneself, Matsukawa instead suggests a deliberate paradigm shift as an extension of her previous work. At the same time, it is hoped that this paradigm shift will also take place in reality.
Artist Profile
Tomona Matsukawa (b.1987, Aichi) graduated from Tama Art University in 2011, having specialized in oil painting. Her recent exhibitions include Roppongi Crossing 2016: My Body, Your Voice (Mori Museum, Tokyo), Shell Artist Selection (The National Art Center, Tokyo, 2013) and Artist Meets Kurashiki vol.12 Tomona Matsukawa (Ohara Museum of Art, Okayama, 2016). She was a finalist for the Asian Art Award (2017), and was awarded the Fukazawa Ichiro Memorial Award (2011) and The 25th Holbein Scholarship (2010). Her works were added to the collections of the Ohara Museum, the Mori Museum, the Takahashi Collection, as well as the Pigozzi Collection.
Exhibition Outline
Tomona Matsukawa, Love Yourself
Date: March 9 – April 6, 2019
Opening hours: Tue – Thu, Sat, 11am – 6pm; Fri 11am – 8pm
* Closed on Sunday, Monday, and National holidays
Venue: Yuka Tsuruno Gallery
1-33-10-3F Higashi-Shinagawa, Shinagawa-ku, Tokyo Japan
Artist Talk
"Mother/Single parent/Artist"
Date: Saturday, March 9, 16:30-17:30
Guest: Natsumi Araki (Associate Professor, Tokyo University of the Arts)
Works in Exhibition
Installation View
ARTISTS