EXHIBITIONS
ARCHIVE
Akiko Ueda, A Hole for a Wind
2018.01.20 - 2018.02.17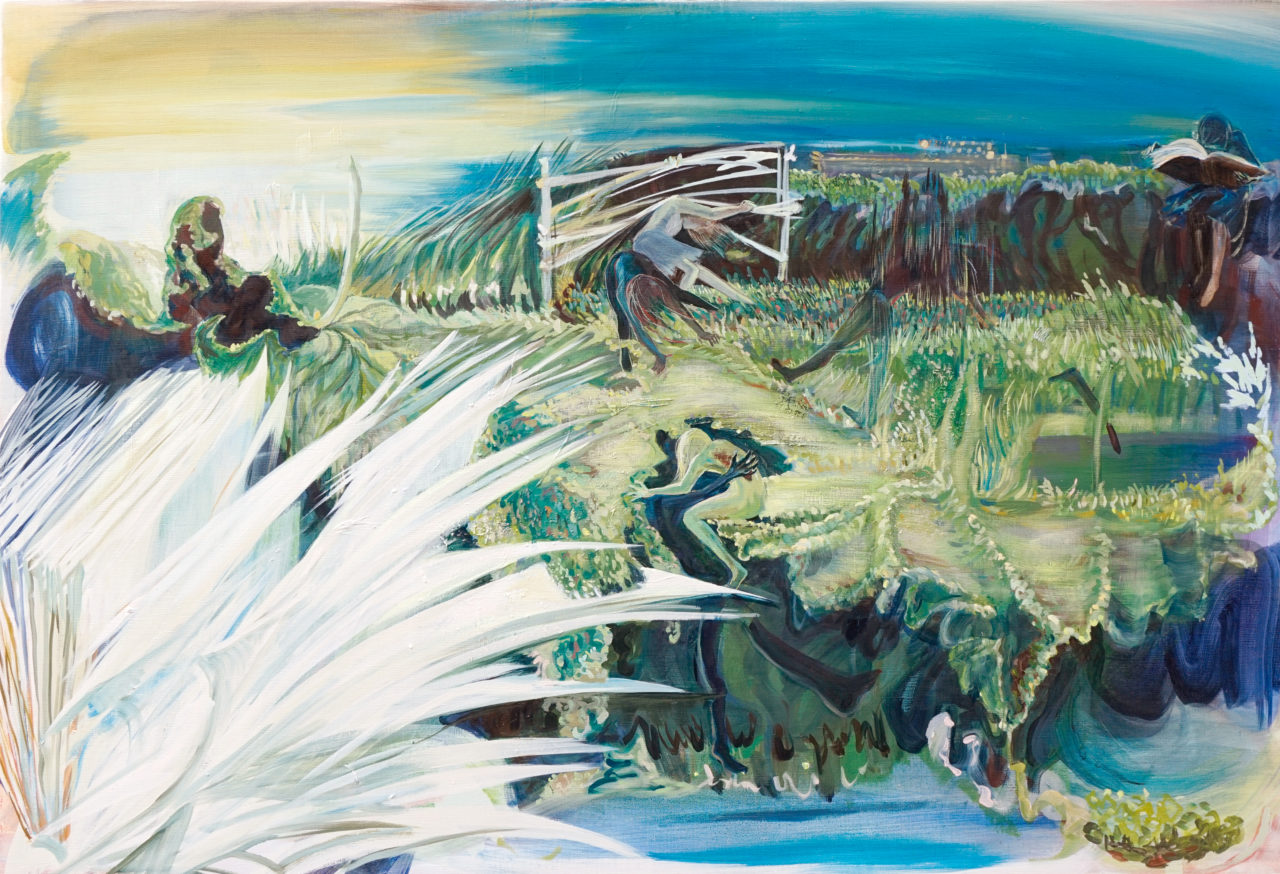 Yuka Tsuruno Gallery is pleased to present A Hole for a Wind, a solo exhibition of Akiko Ueda, from Saturday, January 20 to Saturday, February 17 in 2018. In her first solo exhibition at the gallery, Ueda will present her works of art including new paintings and an ongoing performance project EN ROUTE which she has developed since 2013.
 Time and music, people's actions and thoughts, shifting situations, growing and then dying plants, and one's attention to the changing surroundings. These are the fluid realities one feels incessantly while living. How can an artist express such realities in painting? This is the question Ueda asks through her practice. Her paintings explore how to be a medium to capture the process and moment of a certain phenomenon transforming, and the causes of such change, instead of painting as reproduction or representation. Each work is characterized by a unique style and brushstrokes. These diverse pictures are painted without a preparatory sketch on the canvas, meaning that each brush stroke leads to the subsequent quality and color, reflecting the thinking and interest of the artist at the time of the production. This continuous action that spreads through the whole pictorial field creates fluid space-time within the picture and weaves a world of fragmentary stories that is magical and shimmering. This world where various creatures appear and a wide range of texture and elements overlap on the same surface triggers different reveries depending on which section of the picture the viewer is focusing, evoking the ceaselessly changing world of ours.
 Ueda describes her process as "akin to the moment when a hole is made on a wall and the fresh wind blowing through it. This in turn triggers flow and movement in the hitherto static room, causing a transformation in the space-time." The title of this exhibition, A Hole for a Wind was derived from this image, reflecting Ueda's attitude toward her practice.
 One can see the same attitude toward her practice in the ongoing performance project EN ROUTE (French for "on the way"). This project started in 2013 when Ueda met percussionist Naoto Yamagishi as a private experimental session where Ueda painted a picture while listening and responding to the percussion of Yamagishi, creating an improvisational space for painting production. Since the second session, it became a performance event with audiences where various performers, including musicians or dancers, are invited to form an ensemble while Ueda paints over the same painting. It has been held in Paris, Komoro, Yokohama and other locations, and its seventh presentation will be held during the opening of this exhibition. The over-painted picture resulting from the performance will be included in the exhibition.
Artist Profile
Born in 1983 in Kyoto. Akiko Ueda received BFA in Painting from Musashino Art University in 2006. Her solo exhibitions include Sometimes, Our World Must Be a Big Bouquet (Kiyosu City Haruhi Art Museum, 2009), ARKO 2012 / UEDA AKIKO (Ohara Museum of Art, 2012) and When a Painting Is Looking at Painter's Sleeping Face (Dai-ichi Life South Gallery, 2015). She participated in many group shows including Vision Of Contemporary Art 2011 (The Ueno Royal Museum, 2011) and Closing and Neo Vision (Nagano Prefectural Shinano Art Museum, 2017). Her works are in the collection of Ohara Museum of Art (Okayama Prefecture) and Kiyosu City Haruhi Art Museum (Aichi Prefecture). She has participated in international residencies in Paris and Czech Republic, and she is currently based in Nagano Prefecture.
Exhibition Outline
Akiko Ueda, A Hole for a Wind
Date: January 20 – February 17, 2018
* Performance: January 20, 19:00 –
 Piano: Yuko Yabe
 Dance: Margatica
 Percussion: Naoto Yamagishi
Opening hours: Tue – Thu, Sat, 11am – 6pm; Fri 11am – 8pm
* Closed on Sunday, Monday, and National holiays
Venue: Yuka Tsuruno Gallery
1-33-10-3F Higashi-Shinagawa, Shinagawa-ku, Tokyo Japan
Works in Exhibition
Installation View
ARTISTS